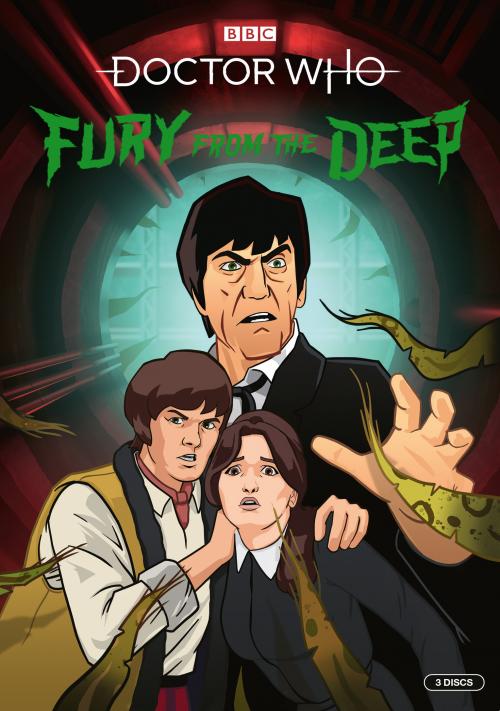 BBC Studios have unveiled the artwork and extras for Medical doctor Who: Fury From The Deep
Starring Patrick Troughton as The Health care provider, the new animated release will be out there on DVD, Blu-ray and Steelbook from 14th September 2020.
Pre-orders are accessible now from Amazon.
Next the achievement of present animations The Electricity of the Daleks, The Faceless Kinds, Shada and The Macra Terror, Fury From The Deep fills another gap in missing Health care provider Who content misplaced in the purge of the BBC's archive in 1975.   
The 3-disc launch presents supporters the prospect to enjoy Fury From The Deep in significant definition, both in total colour or in black & white. The launch will incorporate the surviving clips from the unique 1968 manufacturing as effectively.
Fury From The Deep is instructed across 6 episodes and stars Frazer Hines and Deborah Watling. The storyline worries a colony of sentient, parasitic seaweed, last found in the eighteenth century, returning to assault a quantity of gasoline instillations in the North Sea in an attempt to consider around humanity.
Animated episodes from Huge Finish Imaginative Restricted in association with Digitoonz Media & Entertainment and Thaumaturgy are joined by a prosperity of extras.
A building-of featurette 'The Cruel Sea – Surviving Fury From The Deep' sees authentic cast associates Frazer Hines, June Murphy and Brian Cullingford revisit filming places with manufacturing assistant Michael Briant, assistant floor supervisor Margot Hayhoe and helicopter pilot Mike Smith. 
Other contributors to this segment consist of author Victor Pemberton and actress Deborah Watling. There is also an archive audio job interview with director Hugh David.
Added product consists of: 
·         Audio commentaries
·         The Cruel Sea – Surviving Fury From The Deep
·         Original surviving footage
·         Behind The Scenes 8mm footage
·         Animating Fury From The Deep
·         Archive interviews with Peter Day and Victor Pemberton
·         Teaser Trailer
·         Photo Gallery
·         The Slide Audio Drama
·         PDF scripts
RRP:
DVD – £20.42 / Blu-Ray – £25.52 / Blu-Ray Steelbook – £40.84