Social media, paid advertising, and other marketing efforts help you generate significant website traffic.
However, search engines drive the majority of online traffic, and without search engine optimization (SEO), you'll lose boatloads of traffic opportunities.   
Correctly implementing SEO takes time, effort, and the right tool to help propel your marketing strategies to boost your revenue.
The question is, which SEO tool should you use?
In this guide, we'll learn the features, pros, and cons of the three leading SEO solutions for marketers: Moz, SEMrush, and Ubersuggest.
Ubersuggest vs. Moz vs. SEMrush: Which SEO solution is for you?
We lay out each tool's features to help you assess which one works best for your SEO and marketing strategies.
Ubersuggest
Ubersuggest is a freemium SEO tool that packs all the features marketers and business owners need to rank high in the search engine results pages (SERPs). It helps you generate keyword suggestions, learn about your competitors, and find new ideas for your content (among others).
What makes Ubersuggest stand out is it offers a ton of its SEO features for free with a daily limit that other tools would never allow you to access before signing up.
This makes Ubersuggest one of the most affordable SEO solutions for startups, newbie marketers, and marketing teams with a limited budget.
These are some of Ubersuggest's features.
Keyword ideas
Once you enter a keyword, Ubersuggest provides an overview containing your keyword's monthly search volume, SEO difficulty, competition in paid search, and the average cost per click.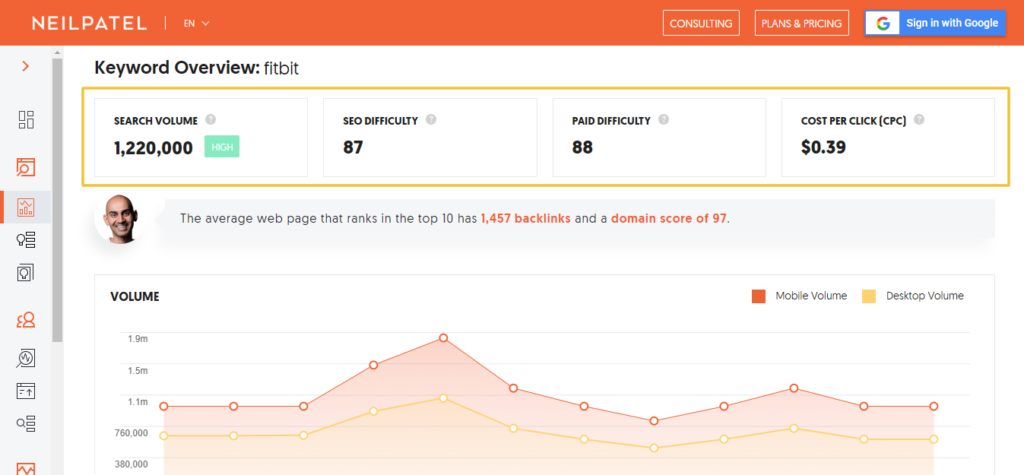 The tool also shows keyword ideas, including related terms, questions, prepositions, comparisons, and others.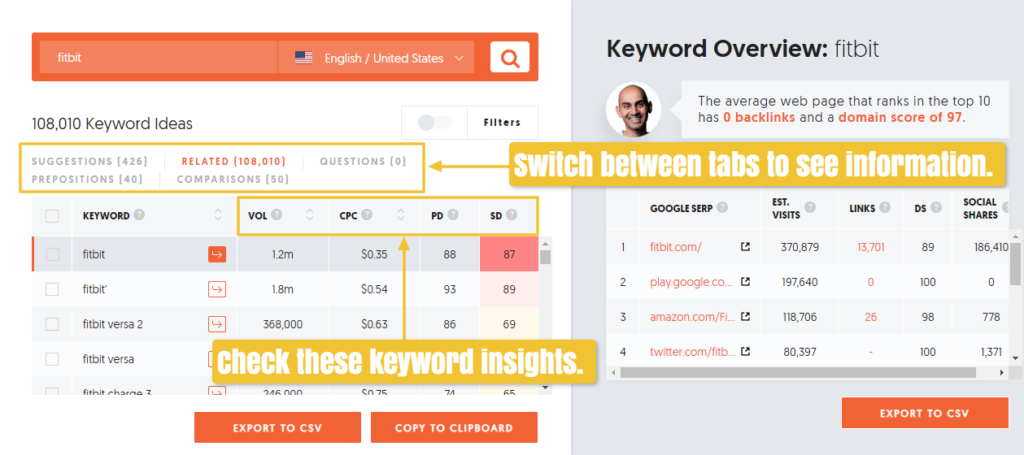 Signing up (for free) gives you access to more results, widening your resources, which helps expand your keyword and SEO strategies.
SEO difficulty and SERP analysis
Learning a keyword's difficulty level is crucial.
After all, if the top pages that are ranking for a keyword have loads of authoritative backlinks and are impossible to topple, you'd be better off not pursuing the keyword.
That's why knowing the SEO difficulty level of a keyword is important. It helps you determine which keywords are feasible to pursue and which ones aren't.
Ubersuggest can help you with this.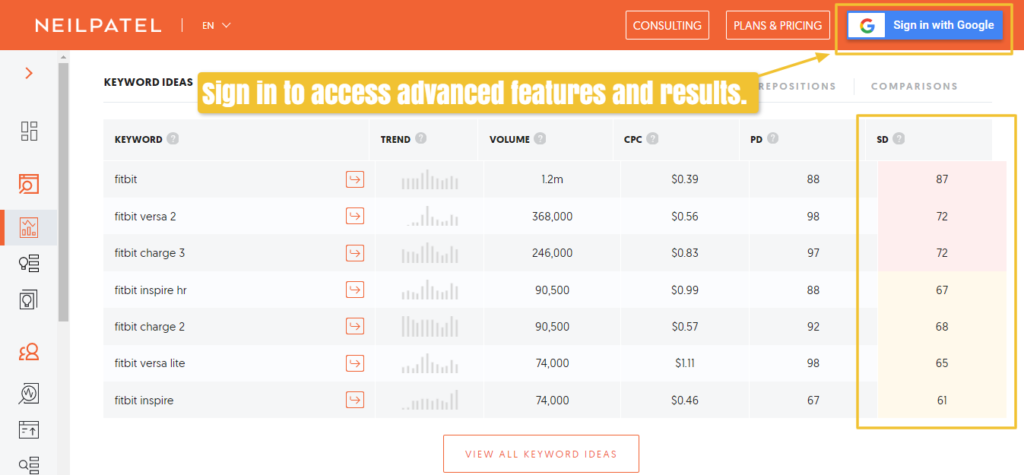 It has an SEO Difficulty column that gives you a number representing how difficult it is to rank for the keyword. The higher the number, the more difficult it is to rank for the keyword.
You can also see the top-ranking pages for a keyword, its estimated monthly visits, the number of backlinks, domain score, and social shares.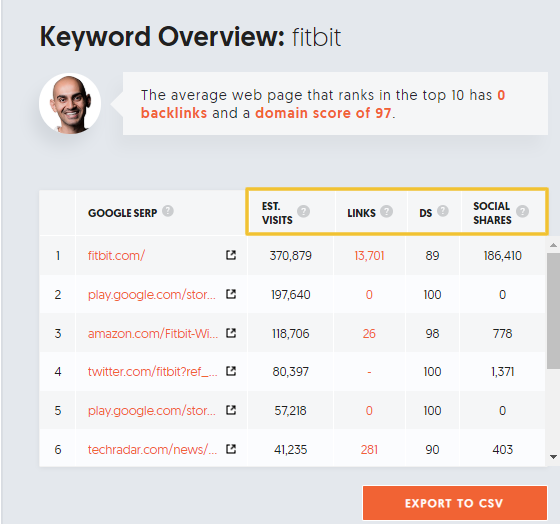 Ubersuggest also has a content idea generator, backlink analyzer, and an SEO audit tool that shows you errors you need to fix to improve your search results ranking and increase traffic.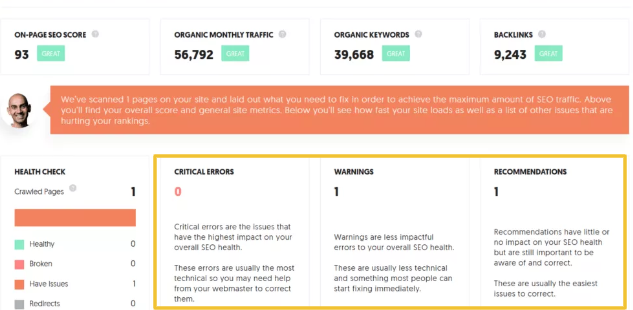 The platform offers all the features and tools marketers and business owners need to run a successful SEO campaign.
Pricing
A lot of Ubersuggest's basic SEO features are free. You can access more features and data by signing up for a free account.
To remove the daily limitations, access even more data and advanced features, sign up for a paid account.
Ubersuggest's pricing plans are far more affordable than the first two SEO tools we covered.
Individual: $12 per month
Business: $20 per month
Enterprise/Agency: $40 per month
Pros of using Ubersuggest
You get all the key SEO features for free with a daily limit, but signing-up gives you access to more data.
You gain more than enough relevant data to run a successful SEO campaign.
Information is presented clearly without non-essential details.
The user interface and insights are beginner-friendly and easy to understand.
It offers one of the best prices for what it can provide.
Cons of using Ubersuggest
Fewer in-depth SEO tools.
The free account limits your daily searches and number of results.
Moz
Moz is a suite of SEO tools used for keyword research, rank tracking, website crawling, on-page optimization, and more to help you manage every aspect of your SEO campaigns.
Keyword explorer
The tool lets you uncover insights to help you target and prioritize the best keywords for your SEO marketing efforts.
For instance, when you enter "running shoes" in the Keyword Explorer, the tool shows you the keywords' monthly search volume, difficulty, organic click-through rate, and more.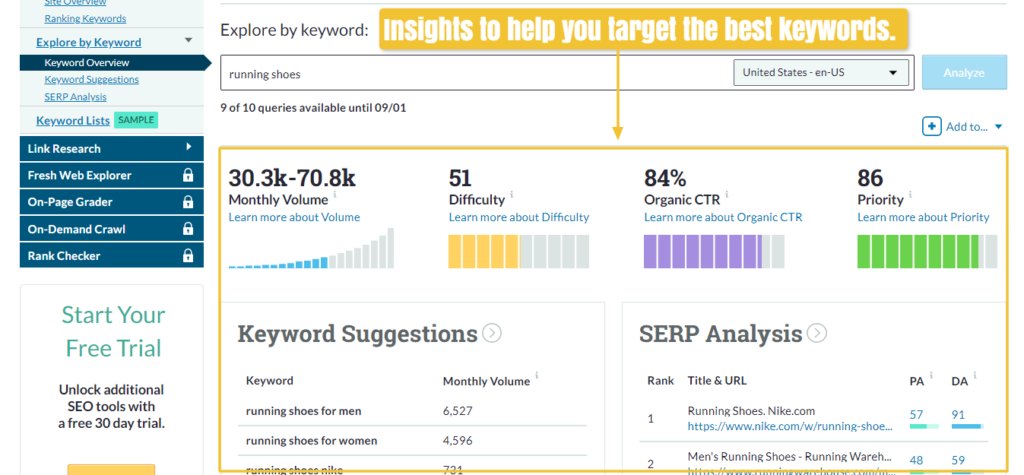 It also provides keyword suggestions and a SERP analysis showing the top organic results ranking for the keyword, page authority, domain authority, and others.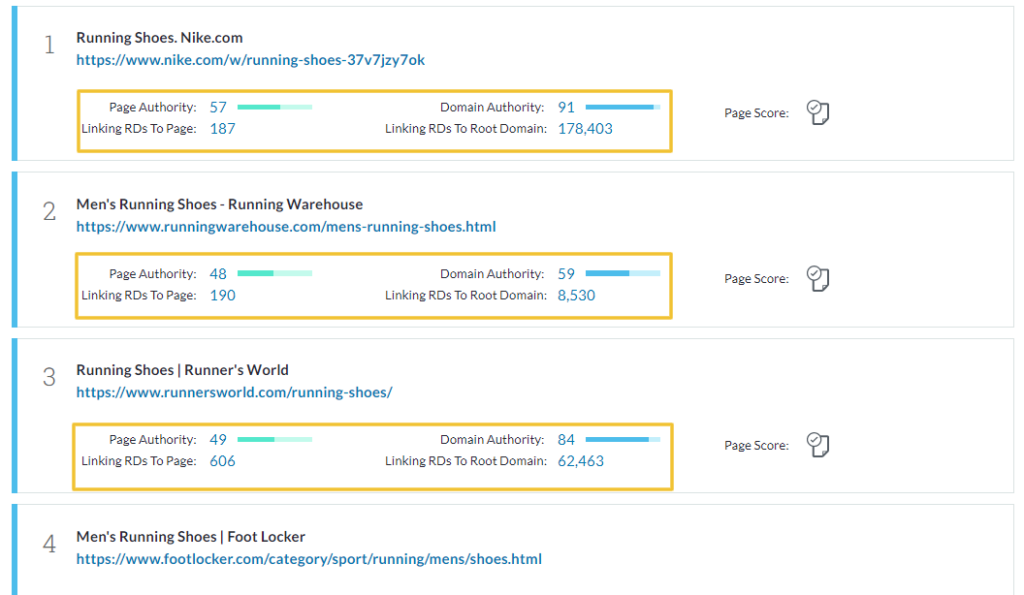 With these features, you'll uncover the keywords your audience uses to find your services and products and rank for those keywords to drive qualified leads to your web pages.
Rank tracking
Moz Pro helps you track your website's keyword ranking performance and overall SERP visibility to see if your SEO marketing campaign works for your audience.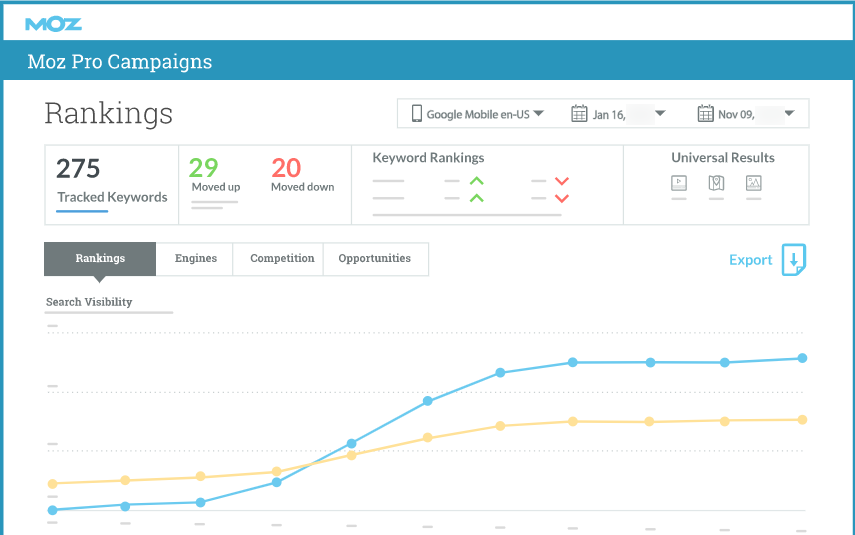 You'll also see and track your competitors' SERP movements and how you rank for specific keywords compared to them.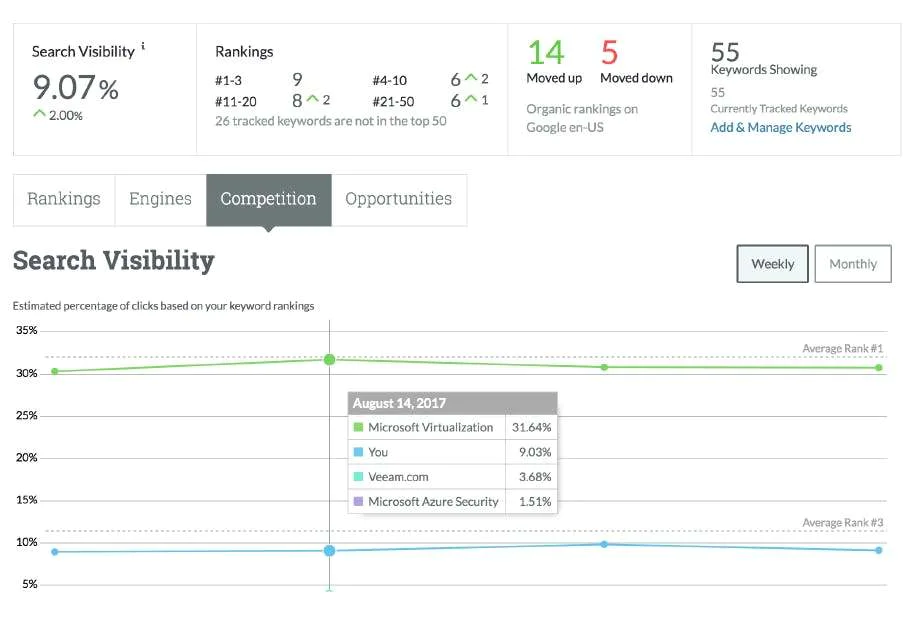 Site crawling and auditing
Moz Pro's auditing and site crawling tool help you manage your website's health by finding common and recurring technical SEO issues.
This includes website issues such as missing title tags, broken redirects, and others that hinder your site from being ranked, indexed by search engines, or receiving relevant traffic. 
Other Moz Pro features include on-page optimization, link research, and custom reports. 
Pricing
The Moz Pro pricing plan starts at $99 monthly for SEO beginners who want the basic features.
Most users choose the medium plan at $149 per month since it offers a 30-day free trial period and full access to keyword research tools.
Pros of using Moz
It has a wide range of features such as keyword tracking, backlink analysis, competitor metrics view to help you gain useful insights, and develop your SEO and marketing campaigns.
The campaign dashboards provide an overall view to track your SEO efforts' success over time.
Cons of using Moz
The campaigns and crawls features have limits based on your membership plan.
Tackling the SEO site issues under the website auditing feature can be overwhelming. 
The interface includes so many options that can make navigating a bit confusing.
SEMrush
SEMrush is an online visibility management platform that offers PPC, social media, content, competitive research, and SEO solutions.
Keyword research
SEMrush helps you determine the keyword search volume, difficulty level of ranking for that keyword, and competitors already ranking for them (among other things).
The platform will analyze your keyword to help you make better SEO strategy decisions.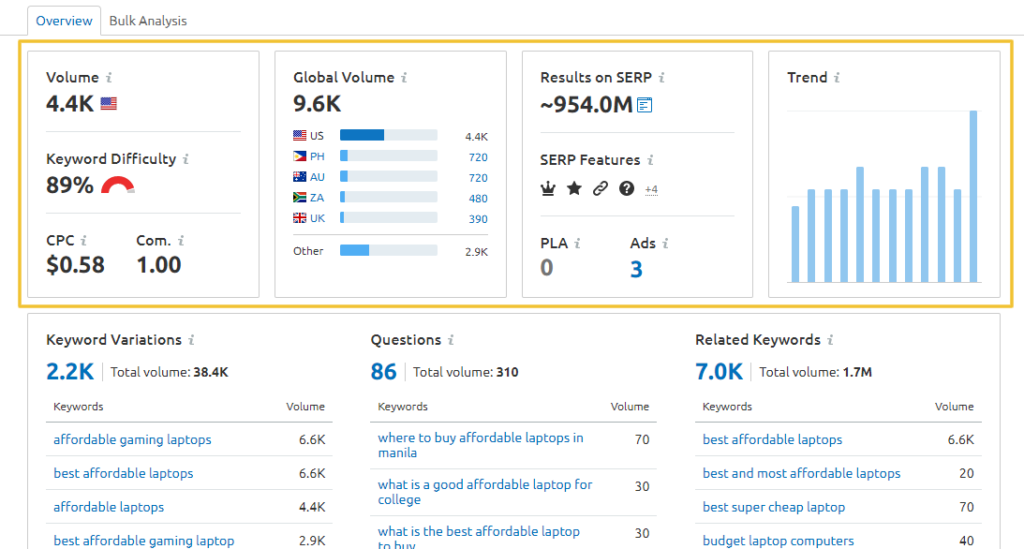 The overview shows the average monthly search volume of the keyword for the last twelve months and other relevant insights.
You'll also see the top variations, question-based phrases, and related terms of your seed keyword and their estimated search volumes.

Plus, the tool provides a SERP analysis to help you assess competitors targeting the same keyword.
These features let you determine if the keyword you're targeting is worth competing for and if it will drive your SEO and marketing strategies forward. 
Competitive research
SEMrush helps you gain insights into your competitors' strengths and weaknesses through its competitive research tools.
For instance, the domain overview shows your competitor's authority score, the average number of organic and paid search traffic, backlinks, display advertising, and a lot more.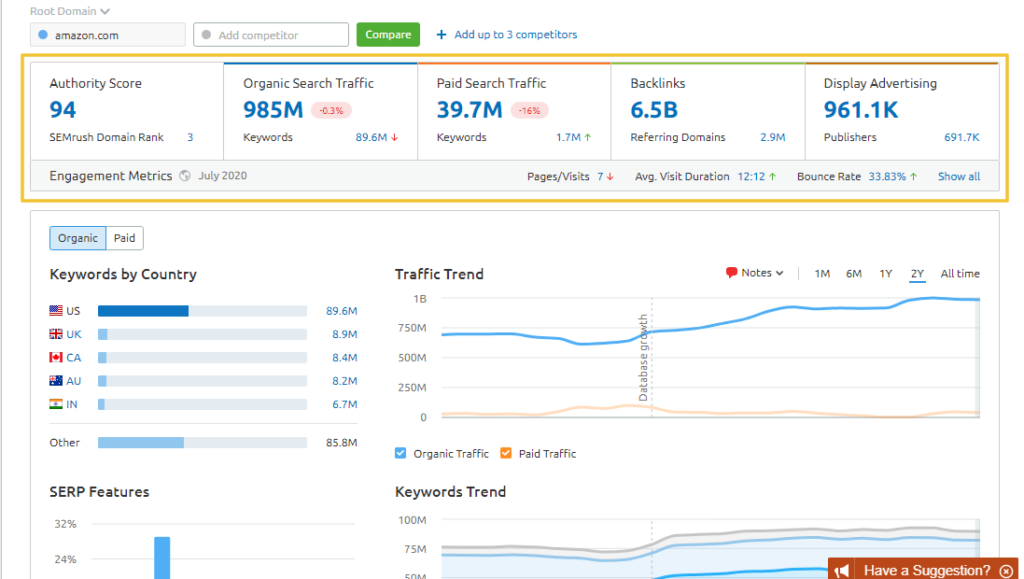 SEMrush also lets you perform traffic analytics, organic research, and keyword and backlink gap analysis on your competitors.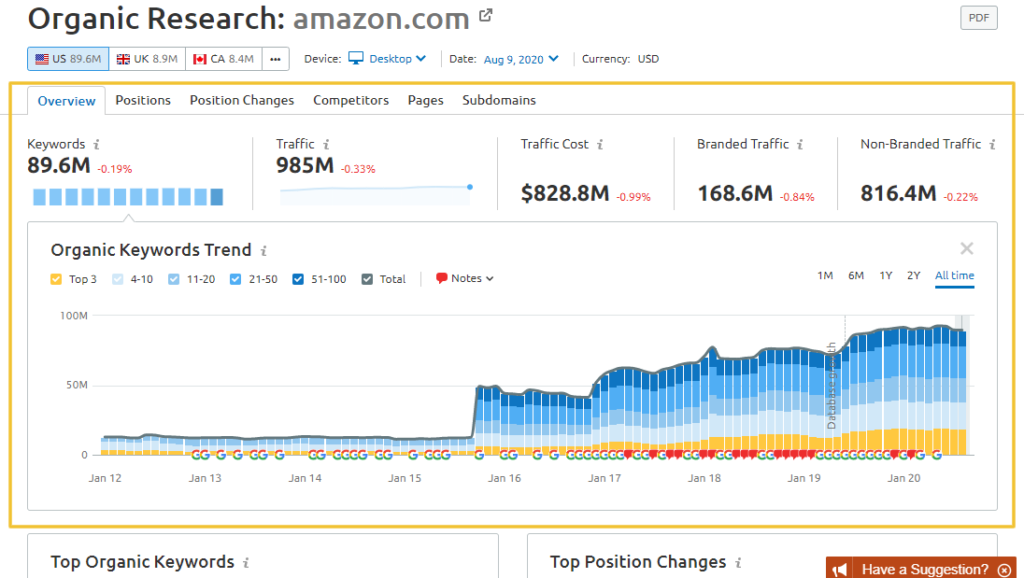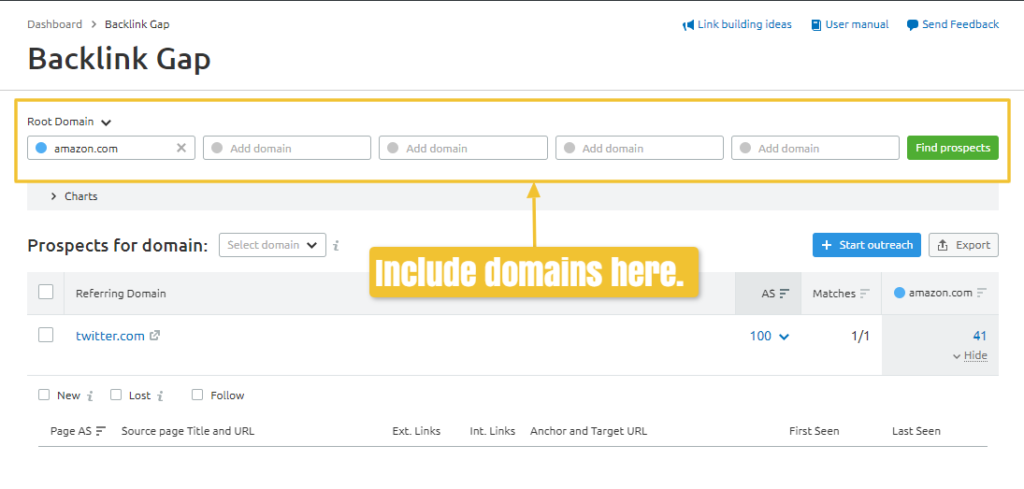 These tools help you learn your competitors' SEO strategies in-depth, learn what works and don't work, and develop your tactics.
Other essential SEMrush features and tools for your SEO and marketing efforts include rank tracking, link building, and website auditing.
Pricing
SEMrush lets users create free accounts but with limited access to the platform's full data and other extensive tools.
The lowest SEMrush pricing plan starts at $99.95 per month with a seven-day free trial.
Pros of using SEMrush
The platform offers a suite of tools to support your content strategy and develop your SEO and marketing efforts.
It provides reliable data and features, from keyword research to on-page and tech SEO. 
Cons of using SEMrush
The interface and the platform's features can be overwhelming, especially if you have to remember where to find a specific metric.
The pricing can be costly for SEO beginners, and the lowest plan only provides limited access and features for users.
And the winner is… Ubersuggest!
Each tool has something to offer to help you establish an effective SEO campaign that beats your competitors, drives traffic to your website, improves your search engine rankings, and, ultimately, increases your sales.
But if I had to pick a winner, it would be Ubersuggest.
The tool is far more affordable than SEMrush and Moz, yet it provides all the crucial functionalities you need to run successful campaigns, and none of the features that add very little value to the user.
If you found this guide helpful, please take 3 – 4 seconds of your time to share the post. Cheers!